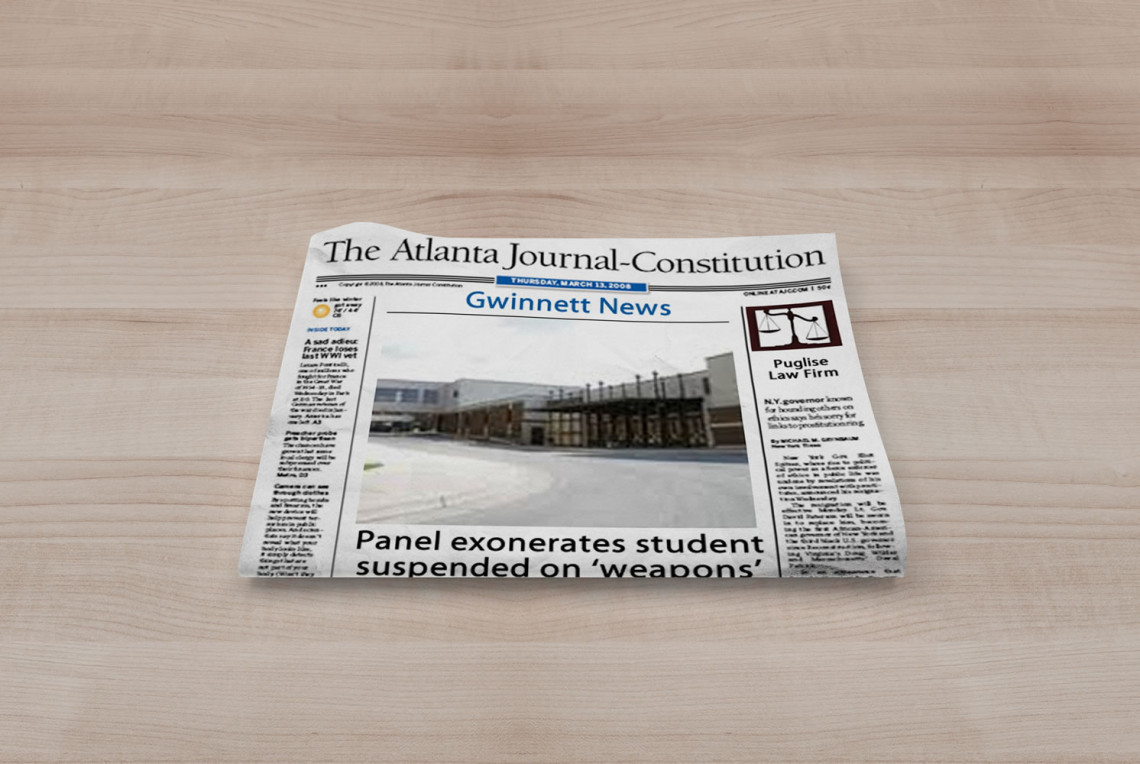 NORCROSS – Although his client was found innocent of a weapons charge by a school disciplinary panel, the attorney for a Meadowcreek High School student on Friday called the hearing "ridiculous" and said the entire process violates the constitutional rights of students.
"You would not believe the way they handled it", said Mike Puglise, the lawyer for Bryan Trent of Lilburn. "It was just a rubber stamp on the charges. The administration states their case. The students have no due process or rights whatsoever."
School officials have said that it is very rare for a disciplinary panel to overturn the decision of the school administrator taking disciplinary action.
The panel of the Gwinnett County school system, held on behalf of the Gwinnett Board of Education, was conducted on Thursday. Three other Meadowcreek students were found guilty on weapons charges after a parking lot search turned up such items as cigarette lighters, sticks and one broken toy cap gun.
In Lawrenceville, Victoria Sweeny, the attorney for the school board, defended the system and noted that Gwinnett's panels have been used as models for several other school systems in the state. She said in 10 years only two decisions have been reversed by the Georgia Board of Education and one of those later was overturned in Superior Court.
"Gwinnett is modeled all over the state," Sweeny said. "As for the manner in which our panels are conducted, I would put them up against any other school system when it comes to due process. If there were a lot of screwing up here, there would have been many more reversals."
On Oct. 6, Bryan Trent, 18, was suspended from school for nine days after a nail puller, used for his part-time roofing job, was found in the front seat of his car. Trent's parents, Barbara and Ken Trent, said they were delighted their son has been completely exonerated, even though they are concerned that he has missed so much school.
Puglise represented them "pro bono," or without charge, because his wife and Barbara Trent had been friends when they were employed by the same company.
"This decision is solely because of Mike Puglise, he did a wonderful job," Barbara Trent said. "Even though our son is innocent, we want to get involved and work with the system, so this will not happen to any child again."
At the outset, the Trent panel had three members. But Puglise was successful in getting one of those eliminated because she was a former teacher of their son's, and the two did not get along, Barbara Trent said.
Ken Trent said he only hopes missing so much school will not hurt his son academically.
"Sometimes it's hard to catch up," he said. "He wants to graduate in June."
Puglise, a former Lilburn police officer who practices law in Cobb County with former U.S. District Attorney Bob Barr, said his job was difficult because the panel ruled out certain procedures he had intended to use in defense of his client.
"They wouldn't let me explore certain constitutional issues that were related to the case," he said.
The disciplinary panels are widely promoted by the school system as a means for accused students to defend
themselves when charged with weapons, drugs or other serious violations of the system's "Zero Tolerance" policy.
But Puglise, along with the Trents, said they believe the panels are conducted in such a manner that the students' hands are tied.
The same sentiments were expressed by Marilyn Taynor, the mother of 16-year old Jackie Taynor who on Thursday was declared guilty of a weapons violation.
Taynor, also on Oct. 6, had been suspended for nine days after a hollow stick covered with duct tape was spotted in her front seat.
She had told school officials it was there for protection against carjackers. School principals have the discretion to suspend students from zero to nine days, Sweeny said.
Marilyn Taynor, who has described her daughter as an excellent student who enjoys school, believes the long suspension was unjust and emotionally hurtful to her child. She also objected to the conduct of the disciplinary panel, she said.
As an arm of the school board, all the disciplinary panels are made up of Gwinnett school employees, usually teachers or administrators. That policy was established years ago after it was determined board members could not personally participate in all the disciplinary hearings required in a large school system, Sweeny said.
But Taynor, and others believe the panels are not impartial and tend to back the school administrators who send the students there in the first place.
"It was a kangaroo court," Marilyn Taynor said. "I intend to see this through. I'm not finished fighting this. I have two grandchildren coming through the system, and I want to make sure no other students are ever treated like this."
As Puglise described the hearing, he was frustrated at almost every turn.
For example, he said he could get no answers in certain areas, such as about the personnel background of the campus security guard who reported the weapons, he said. Rather than provide the information, the school system called another witness who also had seen the nail puller in the front seat, Sweeny said later.
But Puglise was annoyed at their refusal in regard to the attendant.
"They would not answer," he said. "They assume everything he states is truthful. They would not let me pursue that avenue. Based on everything I heard, the student has no Fourth Amendment rights. It's ridiculous. They would not allow us to explore the issues pertinent to this child's case."
Despite Puglise's charges, Sweeny said the school system is fully backed by the Goss vs. Lopez decision of the U.S. Supreme Court on due process for student discipline.
"Our panels have been set up accordingly," she said. "My perception is that the student has his full panoply of due process."
Despite his dissatisfaction, Puglise believes the issues he stressed did have a bearing on the decision of the two panelists. The school system's team also included a hearing officer and an attorney.
Puglise praised the two panel members.
"They were very open-minded," he said. "I applaud them for their actions. The Trents are happy. Their intent was not to disrupt the school system. They feel the battle was over the policy in effect, the vagueness in that. They wanted to make sure it would not happen to somebody else."
Puglise also said he was forbidden to explore the subject of the student's intent in having the nail puller.
The members told Puglise, "We are not here to look at intent," he said.
"That is their dilemma," the attorney said. "Bryan's intent was what they questioned. Under criminal statute, you have to have intent. They did not allow the issue to be discussed at the panel."
Families unhappy with the disciplinary panel's decision, have other recourses, Sweeny said.
A student also may appeal to the Geinnett board, then to the state board of education, then take the matter through the courts, she said. A student also may ask the school superintendent to overturn the panel's decision.
"There are constitutional safeguards before you can deprive a student of an education," Sweeny said.
Puglise questioned whether the zero tolerance policy against weapons, adopted by the board during the last school year, was intended to be a "catch all policy."
"We are asking this school administration to use common sense," he said. "The school administration needs a different way of handling these cases. The school has become an adverarial system between the school administration and the students. The way the policy is written, there is no way to know if you're breaking it or not. It's left up to the panel."