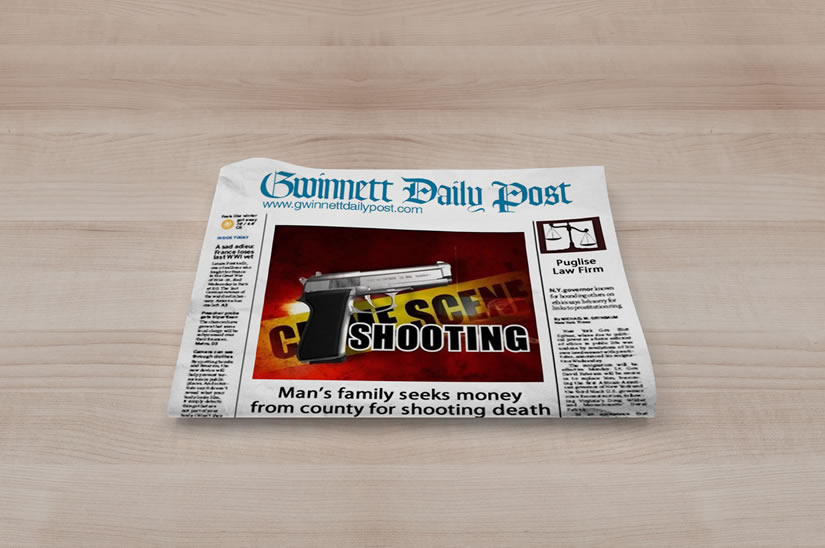 The family of a man killed during an undercover drug operation last year has notified the county of a potential lawsuit and is seeking $7 million to avoid future litigation.
Gwinnett officer Lanny Britt was reaching to grab Joseph Eugene Tallent, 21 of Lilburn during a drug bust when Britt's weapon discharged striking Tallent in the back of the head, an internal police department investigation state.
The department findings determined the shooting was an accident. The district attorney's office determined the officer was not guilty of any criminal wrong doing.
But Tuesday, attorney Mike Puglise sent a letter to the county notifying officials the family wants to settle all claims and disputes for $7 million in order to avoid a lawsuit.
Puglise said the letter is required by Georgia law, but that he will be preparing a civil lawsuit against Britt and the county police department for violation of Tallent's civil rights and wrongful death.
"If they want to discuss this in good faith, we certainly would want to sit down and talk to them." Puglise said "Our objective here is that [Tallents] family and estate are satisfied adequately for an unjustified killing." he said Puglise stated in the letter to the county that Britt at the scene of the shooting, failed to identify himself as a police officer and does not place his 'POLICE' vest on until directed to do so after the shooting incident."
Commission Chairman Wayne Hill Gwinnett Police Chief Carl White and the county attorney's office all said they could not comment on the letter from Puglise because of the possible pending litigation.
White said in an earlier interview that the shooting was accidental and termed it "a terrible, unfortunate incident." The shooting occurred during an undercover drug purchase Nov 20, 1996 at the Chevron convenience store at 5725 Jimmy Carter Blvd. Undercover officers were there to buy drugs from Tallent and three others. Tallent has selected the Chevron station as a place to make the deal, police said, when Britt and other officers moved in after the drug buy to arrest Tallent and the other suspects. Tallent ran Britt had his gun in his hand and when he reached to grab Tallent the gun discharged the police investigation revealed.
"Within seconds after this happened [Britt]dropped his pistol and exhibited disbelief or behavior indicative of a situation where an accidental discharge had occurred" the investigation concluded.
A videotape of the incident shows Britt throwing his arms up and looking for help after the shooting. White said in an earlier interview.
It appeared Britt's finger hit the trigger as part of a reflex action as he grabbed for Tallent. White said in that interview. A copy of the videotape was viewed by Gwinnett Daily Post. The tape shows Britt, who is wearing street clothes and not wearing a POLICE vest exiting an undercover vehicle. The sound on the tape is not of the clearest quality but it appears that Tallent and the others were told to get on the ground.
Tallent can be seen running away with Britt, his service weapon in his outstretched hand in pursuit. As Britt closes in on Tallent his weapon discharges into the back of Tallents head. britt drops his weapon and appears to be shocked at what has occurred. Moments later he can be seen putting on his police vest.
Three other people were arrested that night. Carlos Ramor Anderson, 21 Marty Shawn Holcomb, 20 both of Duluth and Crystal Thrasher,18 of Doraville were charged with possession of methampetamine with intent to distribute. They are awaiting resolution of the charges against them.