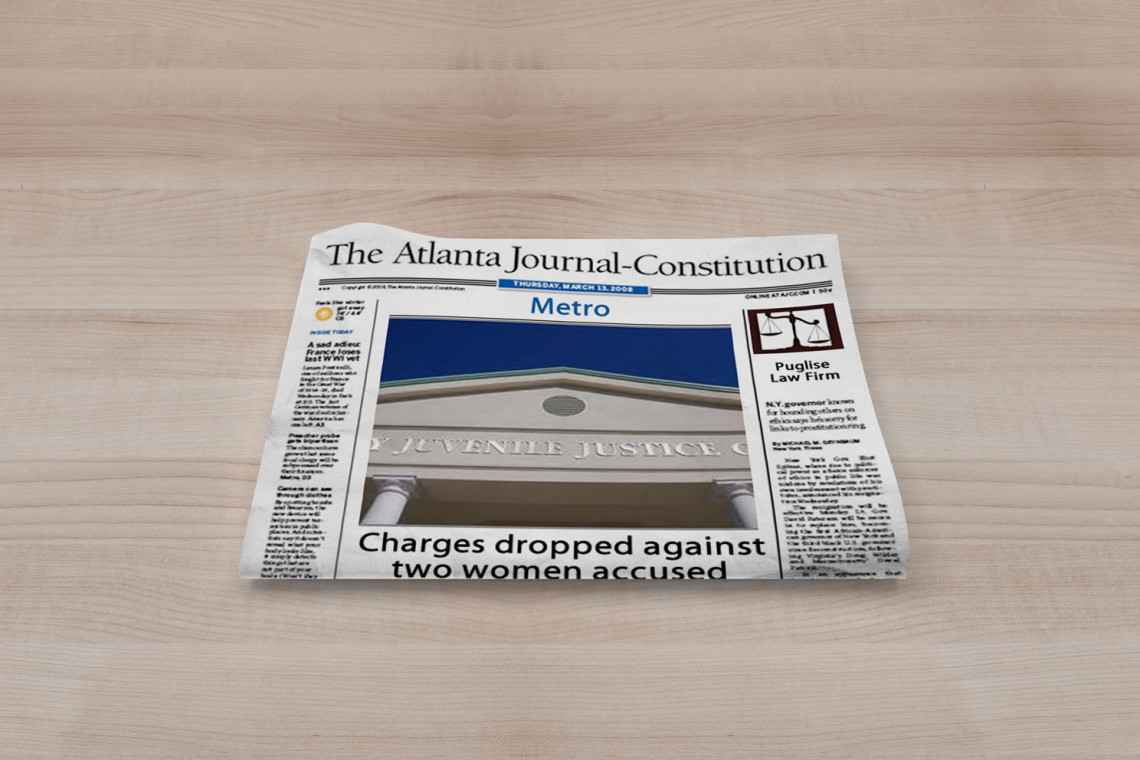 After spending six weeks in jail on charges of murder, kidnapping and armed robbery, two Buford teenagers are back home, the charges against them dismissed.
Brandy Thomas, 19, a former cheerleader at Buford High School, and Amy Delores Connor, 19, a senior at the same school, were deemed to be witnesses of a March 6 murder rather than participants.
"Evidence came out at the hearing that basically both girls were just present at the scene of the crime. They did not take part in it, they in no way aided the crime at all," said Norcross attorney Mike Puglise, Thomas' attorney.
The charges were dismissed subsequent to a March 31 preliminary hearing in Dekalb County Magistrate Court in which the two were bound over for trial on the murder charge.
"I am satisfied that they are two folks who happened to be in the wrong place at the wrong time," said Tom Clegg, chief trial assistant district attorney for Dekalb. "If they are anything, they are witnesses and should not be defendants."
On the night of the murder of Alfredo Jose Velo Hr., 19, Tucker, the girls were with three men who also were charged with the murder. They included self-proclaimed triggerman Urian (Ron) Kenyatta Harrison, 16; Shakeel Wahab, 17, of Stone Mountain, and James Edward Jewell, 18, of Lithonia.
The three men still face their charges of murder, kidnapping and armed robbery.
Velo was shot to death after the teenagers had met with him, allegedly to buy a gun. But instead, the men argued with Velo, ended up forcing him into the trunk of "Thomas' car, drove for a ways, stopped, ordered him out of the trunk and argued some more. The altercation ended with Velo being killed.
Prosecutors tried to show during the hearing that Connor and Thomas had ample opportunity to leave after the crime but didn't. But Puglise and Edwin Marger, Connor's attorney, countered that the two girls were scared to take such an action and that even if they did get away, they were in an unfamiliar area and wouldn't know where to go.
"Harrison, who was the person who did the shooting, at the bond hearing testified that he had cut Amy with a knife and had told them to say nothing," Marger said.
He also had the keys to the car at all times, they were in an area they were completley unfamiliar with and (before the shooting) they had no idea what was happening."
Now that Connor is out of jail, she hopes to get on with her life and put the whole episode behind her, said Marger, whose practice is in Jasper.
"She's going to attempt to go back to school. She's done nothing wrong and I imagine the school would welcome her back," Marger said. "She, hopefully, will be going into the Navy after she graduates."
Marger said Connor should be able to graduate.