
View Our
Newspaper Articles.
EXPERIENCED

View Our
News Videos.
AGGRESSIVE

At our practice you are a name.
Not a number!!
DEDICATION

11:06-11:29a ET – Mike Puglise – Defund the police and abolish police were all the catchphrases of the left one year ago.  Protests against law enforcement were rampant.  Cities slashed budgets for law enforcement.  Then crime surged.  The public demanded action.  Today, polling shows that over 70% of Americans oppose defunding the police.  The former police officer and principal attorney for the Puglise Law Firm discusses.
The Vicki McKenna Show – The Corruption of Science
April 26, 2022

Lars Larson Show – Oct 28, 2021
Biden promotes gender equity plan that eliminates cash bail
Uruguay Case – Another video shows that it was rape, Haitian lawyer says…
Appeals Court overturns lower court ruling after Attorney Michael J. Puglise successfully argues in the case. Supreme Court of Georgia PILCHER v. STRIBLING et al.
No. S06G1482. Decided: June 18, 2007 – See more at:http://caselaw.findlaw.com/ga-supreme-court/1063711.html#sthash.NXodGhCe.dp…

One America News Network – Attorney & Former Police Officer, Mike Puglise on Crime & Law Enforcement

At the Puglise Law Firm, our goal is to achieve those results through dedication, hard work and total commitment to professional excellence. With over thirty years experience, we have litigated cases throughout the entire state of Georgia. Our practice spans both Federal and State Courts. In all, we have settled thousands of cases and taken over two hundred fifty jury verdicts.
Our personal injury negligence cases include wrongful death and catastrophic injury caused by medical malpractice, product liability (defective design of products) and failure to warn consumers of dangerous propensities and side effects of medications manufactured by drug companies. We also represent individuals who suffer serious bodily injuries in automobile accidents and from negligent security precautions in public places.
Attorney Michael J. Puglise understands the anxiety and uncertainty that is often caused by those life-shattering events. By closely communicating with each person who entrusts such important matters to us we inspire confidence and assurance in their cause.
While we respect the positions taken by our adversaries we are relentless in our pursuit of the truth and obtaining the best possible result as each case allows. If our opponents will not come to terms and settle your case on a basis that you find acceptable we pledge that we will take your case to trial and seek the collective determination of a jury in the time honored tradition of American jurisprudence.
OUR PHILOSOPHY:
"WE WILL FIGHT TO PROTECT YOUR LEGAL RIGHTS UNDER THE LAW."
"Every mountain top is within reach if you just keep climbing."

OUR PRACTICE AREAS
Corporate Law
Our practice is designed to address the legal needs of growing businesses.
Criminal Law
Pugilse Law Firm is a team of highly skilled, dedicated and hardworking professionals.
Family Law
Our family law team works to resolve your problems.
Federal Civil Rights
Civil rights are enforceable rights or privileges, which if interfered with by another gives rise to an action for damages.
Personal Injury
At Puglise Law Firm. we understand that personal injury victims and their family members often suffer extreme emotional and financial harm.
Police Misconduct
Attorney Puglise has been successful in the field of Police Misconduct.
Wrongful Death
The loss of a loved one is the most difficult experience any person goes through in their lifetime.
OUR BLOG & NEWS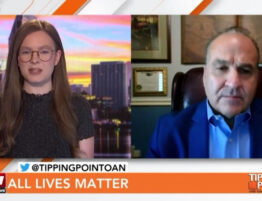 
Original video link https://rumble.com/v12cxtm-tipping-point-mike-puglise-all-lives-matter.html
REQUEST A FREE CONSULTATION
Fill out the form below to recieve a free and confidential intial consultation.
WE HAVE BEEN FEATURED ON THE FOLLOWING NETWORKS, TV PROGRAMS AND IN THESE PUBLICATIONS: