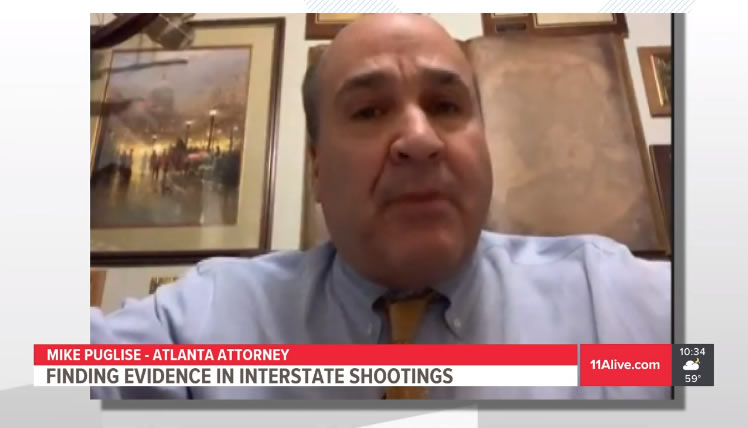 Georgia DOT says installing video recorders for its hundreds of highway cameras across the state would be "cost-prohibitive."
COBB COUNTY, Ga. — Another seemingly random interstate shooting in metro Atlanta is renewing calls for the Georgia Department of Transportation to install cameras, along highways and interstates, that can record video.
On Wednesday, one driver shot another driver on Interstate 75 in Cobb County. Police said the victim is a truck driver who was shot at least twice when the other driver pulled up along side of the truck, and shot at the truck and into the cab. The shooter kept going and disappeared.
The truck driver was taken to a hospital "with life threatening" wounds, according to Cobb County Police.
There have been dozens of shootings on the interstates in the Atlanta area in the past year. Police say investigators are rarely able to identify and catch anyone.
The father of a young driver shot and killed last year has no doubt that if the Georgia DOT cameras were able to record video, police might have been able to catch her killer.
"I just miss her. Just miss her. Just hearing her," Larry Brown said Wednesday about his 21 year old daughter, Sheikevious Young.
He said he loved being her father, and her friend.
"They removed a beautiful gift to the world," Brown said of the person who shot and killed her.
Sheikevious was driving home this past May when another driver pulled up alongside her in traffic and shot into her car and killed her, on I-285 in DeKalb County.
"She was coming home from work and she was shot," Brown said, "they shot multiple bullets in the car and one of the bullets hit her in the head. And she didn't make it. She didn't make it."
Brown said witnesses who were driving nearby told him they didn't see the shooter in any sort of road-rage conflict with his daughter or anyone else, but simply saw him open fire on her car.
Police have never been able to identify who killed her.
"They (police) don't really have any evidence," Brown said. "Since they don't have any evidence, what are they supposed to do? They don't have anything."
Brown believes that police might have had video evidence if the homicide had been recorded on GDOT's cameras on I-285–cameras that monitor traffic conditions for the DOT–except the DOT has never had any video recording equipment installed for any of its cameras anywhere in the state.
"A lot of these shootings that you're seeing, the people would be arrested if there was just simply a recording going on," Brown said. "We need to, at least, start recording, even if it's in select areas, we need to start recording, and that hasn't happened, and these shootings are still happening. And we seen it today."
Brown was referring to the shooting in Cobb County on Wednesday.
In full view of Georgia DOT cameras on I-75, police said that someone pulled up alongside a truck driver and shot into his cab, wounding him at least twice, and sped away.
No one at GDOT who was routinely monitoring the banks of live highway cameras at the Transportation Management Center in SE Atlanta noticed the shooting or the shooter. And because the DOT cameras do not record any of the live video, Cobb County police said it's even more important for witnesses to call them with information about the shooter.
A spokesperson with the DOT said Wednesday that the cost of outfitting hundreds of interstate cameras statewide with video recorders would be cost prohibitive.
"GDOT cameras are 'live feed' in order to monitor real time traffic conditions," the spokesperson wrote to 11Alive on Wednesday. "The server space needed to store video from hundreds of cameras statewide is cost prohibitive to the department. Additionally… it would require a substantial amount of manpower to log video to fulfill all Open Records Requests" from everyone who would want video clips, such as for traffic collision investigations.
Atlanta Attorney and former police officer Mike Puglise said Wednesday that interstate shootings are difficult to solve in large part because there are few, if any, witnesses who are able to get a description of the shooter or the shooter's vehicle, or who are able to see the license tag and other details, in split seconds, with everyone driving at interstate highway speeds as the shooter gets away.
And aside from the victims' vehicles possibly having their own, on-board video recorders, Puglise said the state should take another look at connecting its cameras to recorders.
"I think that the cost factor would be overridden by the factor of helping the public in creating a safety net, for the public who depend on our roadways and depend on the police to make sure those roadways are safe," Puglise said.
"Most of these crimes that we're witnessing would already have been solved, and the cameras being able to record would be a deterrent for future criminals," he said.
Georgia's DOT said that interstate cameras that monitor but do not record are standard in states across the U.S.
Cobb County investigators are asking anyone who might have seen the shooting Wednesday on I-75, or who might have other information to help identify the shooter, to call 911.