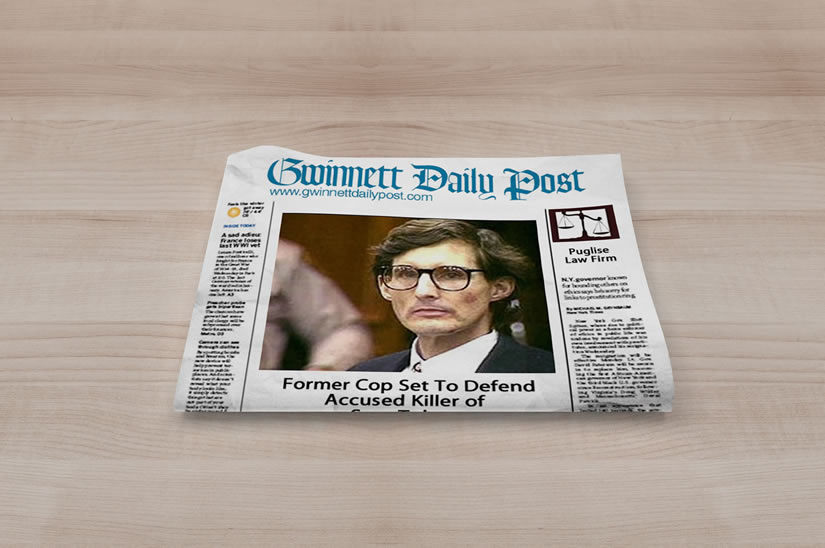 Mike Puglise, former police officer turned defense attorney, successfully handled his first murder case this year, and now finds himself in the spotlight as one of the attorneys in a high profile Cobb County death penalty trial.
Puglise, a former Gwinnett officer and an officer in Lilburn from 1986 to 1993, finished law school in 1993, passed the bar prior to graduating, and eventually accepted a position with attorney Bob Barr, before Barr was elected to Congress.
During his time with Barr, Puglise became involved with the case of a former county police officer who was charged with stealing $10,000 from a police evidence room, and a host of other charges related to theft and computer trespass.
His first murder case involved a young woman from Buford who was charged with murder earlier this year in Dekalb County.
Brandy Thomas, 19 and Amy Connor, 19, were both charged with murder, kidnapping and armed robbery. The charges against both woman eventually were dropped, and Puglise got his first taste of victory in defeating murder charges against Thomas.
A judge determined the two women were witnesses to rather than participants in the murder.
Now, the defense attorney faces another murder case. He and Ed Marger will represent Curtis Rower, the man accused in the shotgun slaying of Sara Tokars, who was killed in front of her two children after Thanksgiving two years ago.
Her husband, Fred Tokars, also faces charges in her death. Authorities believe he hired Eddie Lawrence and Curtis Rower to kill his wife.
Rower confessed to the killing, but a jury could not reach a verdict in his trial last year. The first preliminary hearing for Rower's second trial was held Wednesday.
This is the first death penalty trial for Puglise. "This is a highly unusual case. You have the client saying, 'Yes, I've committed the killing, but there were extenuating circumstances.' "Puglise said.
"You've got issues of was it deliberate, or was it accidental," he said.
Rower has never admitted being hired to commit the murder.
Puglise is no stranger to being in the spotlight. He was involved in two shootings as an officer. Both people he shot survived, but he endured a great deal of scrutiny on the second shooting. The scrutiny has made him a better attorney, he said.
"I think it's made me have more compassion with people [facing problems]," he said.
The district attorney's office ruled that both shootings were justified, he said.
And, while there were no cases Puglise could think of he would not handle as a defense attorney he hesitated when asked if he could represent a person accused of killing an officer in the line of duty.
"That would be a tough situation to take," he said. "If an officer was shot, it would be my duty to question if I would be very effective in representing the defendant. I think the problem I might have with it is what I can't do as a defense attorney, and that is get emotional with a case.
"I know what it's like to wear a uniform, and I know what it's like to be in a police shooting," he said. "I think if someone approached me [to represent them for allegedly killing an officer], at that time. I would have to do some deep soul searching to determine if I could represent them thoroughly and still feel good about myself."
The attorney has accomplished both of his biggest goals in life, to become a police officer and to become a defense attorney. Both jobs are crucial to our society, he said.
Puglise lives in Gwinnett County with his wife and daughter. He practices law in Lawrenceville.