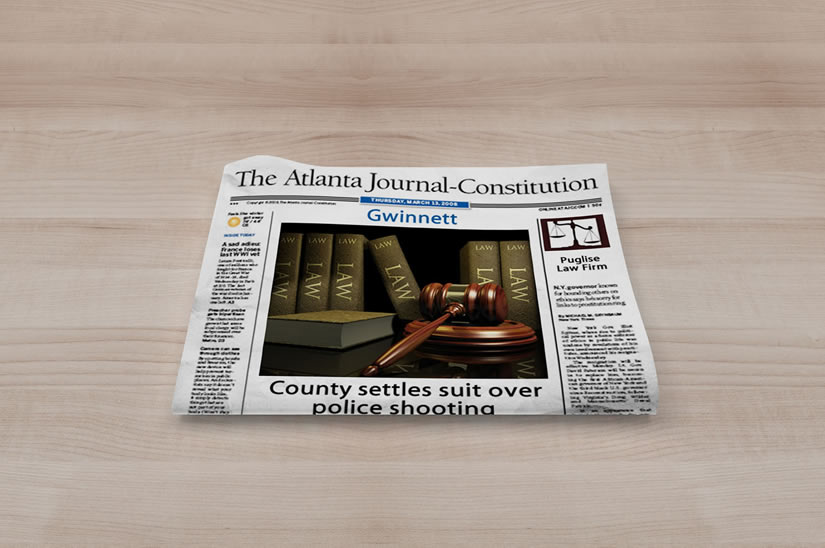 Just as the trial was about to begin, Gwinnett County settled a lawsuit stemming from the 1996 fatal shooting of a suspected drug dealer by county police officer. The suit, filed by suspect Joseph Tallents mother sought $10.5 million from county officials.
Attorneys for both sides declined Tuesday to say how much money the county is paying citing a confidentiality agreement signed by all parties.
"It has been resolved to the satisfaction of all the parties," said Patrick O'Brian, an attorney who represented county officials.
Tallent's mother, Wanda Cryder filed a wrongful death suit against former police officer Lanny Britt, former police Chief Carl White and Gwinnett County alleging that Britt intentionally shot her son.
Tallent was shot in the back of the head Nov 20, 1996, by Britt during a police undercover drug investigation. Britt said at the time that his finger slipped onto the trigger as he jumped out of a police truck to chase Tallent. The gun went off as Britt tried to grab Tallent, police said.
The case was set to go to trial Tuesday in U.S District Court after a jury was picked on Monday. Heading to trial county officials continued to insist that the shooting was an accident. "It was not an intentional killing." District Attorney Danny Porter said. "The evidence is clear on that."
Porter cleared Britt of criminal wrongdoing in 1997 after an internal probe. He said witnesses and a police surveillance tape showed the shooting was accidental.
After the settlement was announced, Porter said: "I'm glad that it's over." "It put an end to probably four years of unfounded personal and professional attacks on me and my office he said.
In November 2000, the 11th Circuit Court of Appeals refused to dismiss Cryder's suit, saying officers are not authorized to use deadly force to stop a fleeing suspect.
The lingering issue was whether the shooting was accidental or intentional. While the video does not conclusively prove that Britt intentionally shot Tallent, neither does it clearly establish that the shooting was accidental, justices in the 11th Circuit wrote in 2000. "A reasonable jury relying on the video evidence could reach either conclusion."
Britt now works as a Gwinnett Firefighter, White retired in 2000.