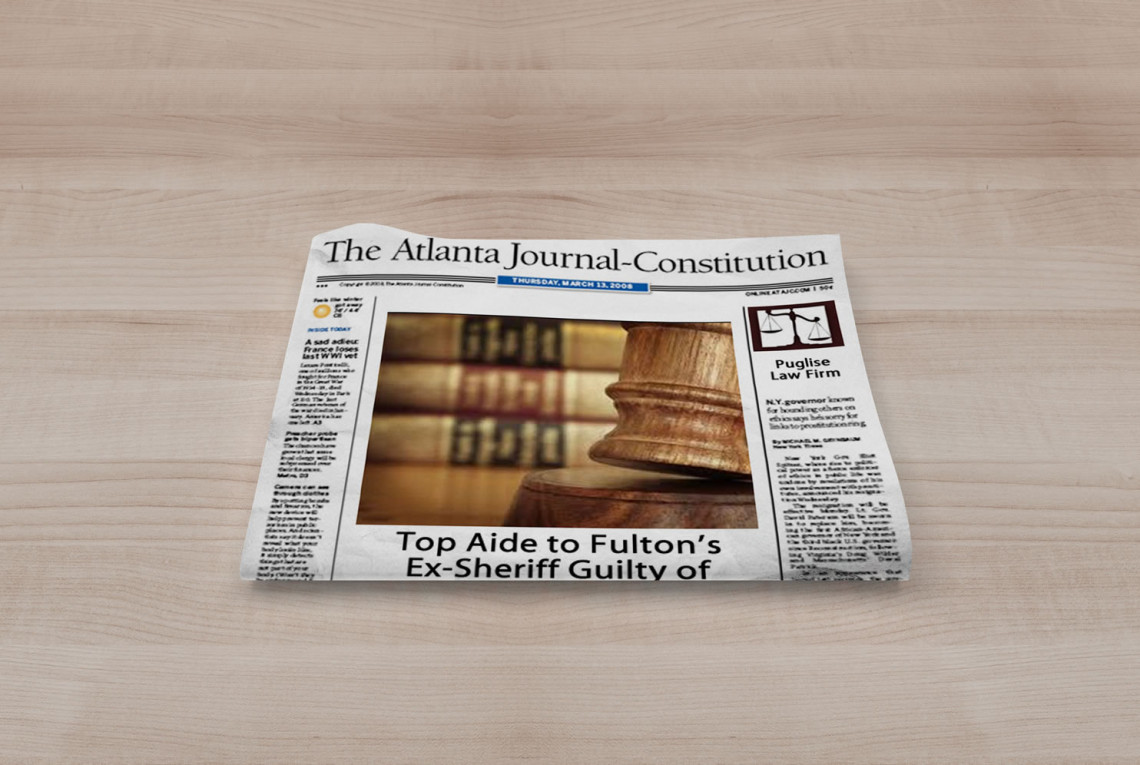 A one-time top aide to former Fulton Sheriff Jackie Barrett has pleaded guilty to federal corruption charges, according to sealed documents made public Monday.
Claudell Jones, who was Barrett's chief of staff, admitted last Wednesday that he solicited and received more than $10,000 from a financial adviser trying to win Sheriff's Office business.
Federal prosecutors declined to say why the charges and the guilty plea were sealed initially. They also declined to say if the investigation remains open or if Barrett is suspected of any wrongdoing. She has not been charged with a crime.
"Jones has admitted to using his supervisory position at the Fulton County Sheriff's Department to solicit and accept corrupt payments from people trying to do business with the county," U.S. Attorney David Nahmias said in a written statement. "This corruption erodes the public trust, raises public costs and will not be tolerated."
Jones, who was Barrett's top aide, will be sentenced Aug. 7. The maximum punishment for fraud is 20 years and a $250,000, but Jones attorney said federal sentencing guidelines call for only 30 months in prison. The lawyer, Mike Puglise, said the judge could give Jones even less time because Jones helped the federal investigation.
"Claudell Jones has always cooperated with the government, 100 percent since day one," Puglise said. "He …. agreed to plea to one count of dishonest services involving the acceptance of a gratuity. He is also continuing to cooperate with the government until they no longer require anything of him. Does that mean there is an ongoing investigation? The answer is yes. He is steadfast [in that] he wants the public to have a clear understanding of what went on at the Fulton Sheriff's Office."
The only other guilty plea in the case was entered more than a year ago. Byron Rainner, once a financial advisor representing New York-based Metropolitan Life Insurance Co., was sentenced in November to 30 months in federal prison for defrauding the county of millions of dollars when he persuaded Barrett to invest $7.2 million from a fund the Fulton Sheriff's Office controlled.
Rainner also must repay $2.36 million when he is released from prison.
Barrett's attorney, Drew Findling, said Monday that Barrett was a "victim … and nothing has transpired to change that position."
Barrett, who did not run for a fourth term after she was temporarily removed from office in 2004, made the investments on Rainner's advice after the two met at an event in Fort Lauderdale honoring the Rev. Martin Luther King Jr. — $5.2 million with MetLife, and $2 million with a Florida firm, Provident Capital Investments Inc.
While the money invested with Provident was lost, MetLife eventually reimbursed the county for all but $500,000 of the money it received.
Last January, Barrett sued MetLife for $10 million for failing to supervise Rainner. Barrett, reached Monday declined any comment.