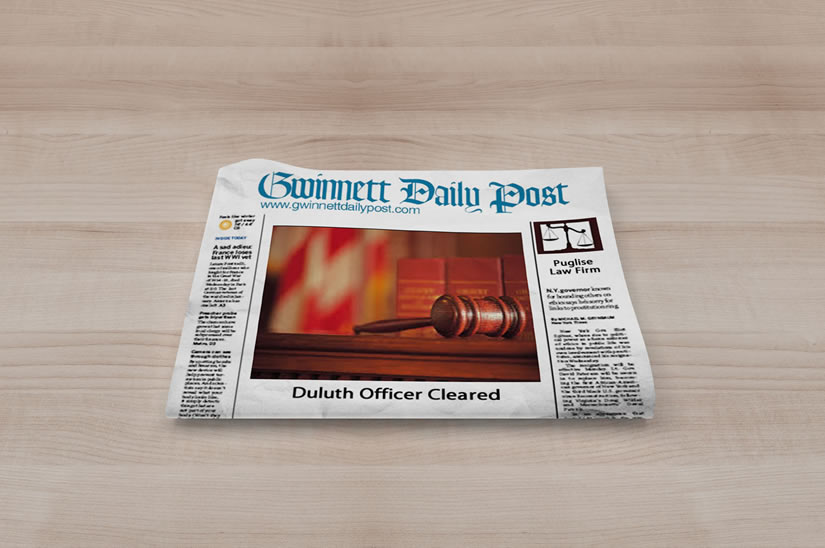 July 19, 2007
LAWRENCEVILLE – A grand jury decided Wednesday not to indict a former Duluth police officer on simple battery charges.
Eugene Flathmann was under investigation by the department after he was accused of reportedly using excessive force with a woman during a Jan. 23 traffic stop. Flathmann was accused of dragging a woman and pulling her hair during the traffic stop.
Flathmann, a former corporal with the Duluth Police Department, hugged attorney Michael Puglise's neck Wednesday when he heard the news that no bill would be drawn.
Puglise said he and his client are pleased with the jury's decision.
"We were very confident going into this," said Puglise. "Officer Flathmann respects the grand jury process and understands that police officers should be held to high standards."
According to a notice of charges, Flathmann, who worked for the Duluth department for more than two years, was terminated from employment with the Duluth Police Department in March. He filed an appeal that was soon withdrawn and followed by the former officer's April 18 resignation.
Duluth police Maj. Don Woodruff said the Duluth department has done all they can do at this point.
"Top administration terminated his employment, evidence was handed over to the district attorney and what happened today, is what happened," Woodruff said.
Flathmann is expected to return to this current job as an officer with the Pendergrass Police Department. Puglise said after he was notified of the jury's decision he headed to work.
""He hugged my neck and headed off to work in Pendergrass," Puglise said.
Flathmann was hired in April as an officer in training and was placed on administrative leave.
"I worked with him (Flathmann) at Suwanee PD, and I knew him to be a good officer," Pendergrass Police Chief Rob Russell said in a previous interview.