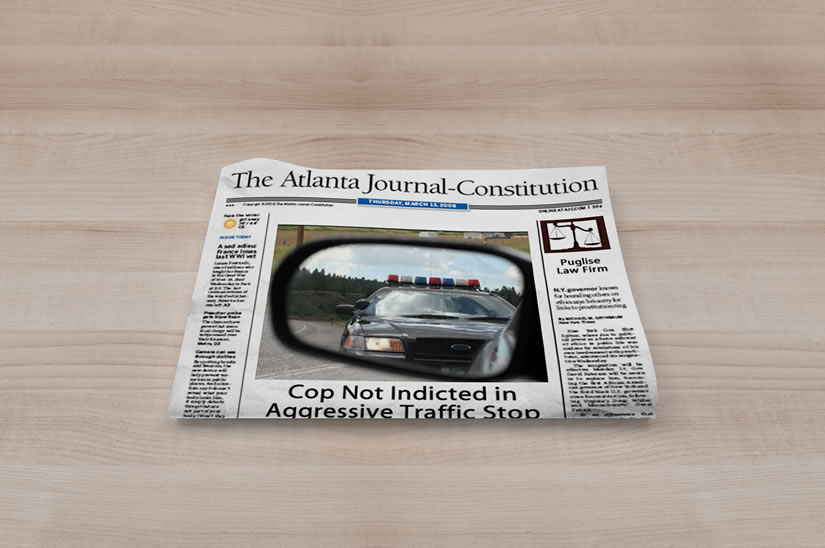 A former Duluth police officer who threw a woman to the ground, pulled her hair and cursed at her during a traffic stop was not indicted Wednesday by a Gwinnett County grand jury
Eugene Flathmann faced charges of simple battery and violation of oath of office for the January incident, which cost the officer his job.
"I feel like I can breathe again," Flathmann said, moments after getting the news from his attorney.
The Jan. 23 traffic stop on Peachtree Industrial Boulevard was captured by Flathmann's dashboard camera.
The grainy video captures Flathmann yanking a drunken-driving suspect from her car by her hair. He looms over her, curses and screams inches from her face as she cries in the street.
Flathmann's attorney, Mike Puglise, has said the officer did nothing wrong and, in fact, helped avert a dangerous situation in which the motorist's car was rolling toward traffic.
He resigned in March from the Duluth Police Department after supervisors moved to fire him, and he's now an officer with the Pendergrass police in North Georgia. He had been placed on administrative leave pending the outcome of Gwinnett's grand jury.
He dressed in a blue Pendergrass police uniform and addressed the grand jury Wednesday morning. He paced outside the grand jury room for 40 minutes as the jurors deliberated. "I'm ready to go back to work," Flathmann said after hugging his attorney.
The driver, Pollyanna Oliveira, did not return repeated calls seeking comment.
Flathmann pulled over when he noticed Oliveira's car on the side of the road just after midnight on Peachtree Industrial Boulevard. In the video, he can be heard knocking on Oliveira's vehicle and yelling for her to open the door. At that point, Oliveira's car had not been in view of the dash camera, but then her vehicle moves forward into view, rolling slowly toward the road. Flathmann reaches into the car through an open window and puts it in park, stopping the vehicle.
Flathmann asks her to get out of the car. "No," Oliveira responds softly. Flathmann then screams for her to get out of the car and grabs her by her wrist and back of the jacket, pulling most of her body from the car seat to the ground.
With Oliveira on the ground pleading and her feet still caught in the car, Flathmann pulls Oliveira's hair. He curses at her, puts her in handcuffs and waits for backup officers to arrive.
A Duluth police internal investigation concluded Flathmann's conduct was "unprofessional."
Puglise said he was glad the grand jury looked at the case.
"I am happy that the district attorney's office handled this in such a professional manner," said Puglise. "The system worked the way it is supposed to work today."